Okay, I didn't realize how easy it was for ANYBODY to become an ordained minister. Turns out, its really easy.
Since Pastor Brown, who from what I understand never had to receive a religious education, has now become Bishop Brown and is dressing like a Catholic Priest, I thought I would become a member of the cloth.
And I did. Officially.
Turns out you can actually pick the title you want when you become ordained from the Universal Life Church Monastery.
According the website I can now use the title Revered, Minister, Pastor, Bishop, Arch Bishop, Cardinal, Monsignor, etc...
I'm having a hard time picking out a title, so I will do another poll and narrow it down to a few different options and let the readers pick the title I will use from now on. I am partial to Reverend, but mostly because I really dig Run DMC and Run is now Rev Run.
So with my membership in the clergy, I can now officiate (after I file my credentials with the District Clerk's Office) weddings, funerals, baptisms, ceremonial rites, last rites, start my own church and absolve people of their sins.
Seriously, I'm not joking. Go to the website and see for yourself.
I offered to officiate the wedding of two politicos that are dating but I was turned down. Which sucks because I was even going to waive my fee just for them.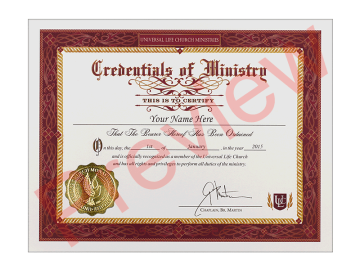 Click here to get ordained.
Oh, and they also have certificates to become a Jedi Knight. No, I'm not kidding and yes, I have now had the rank of Jedi Knight conferred upon me.
No this is not a joke. Although it all started because I wanted to know how Pastor Brown became a Bishop. I don't know where he got his credentials, but I now know how scary-easy it is to become an ordained minister.
I'll post the survey tomorrow. Pick me a title people!